Written by Michael on April 6, 2021
General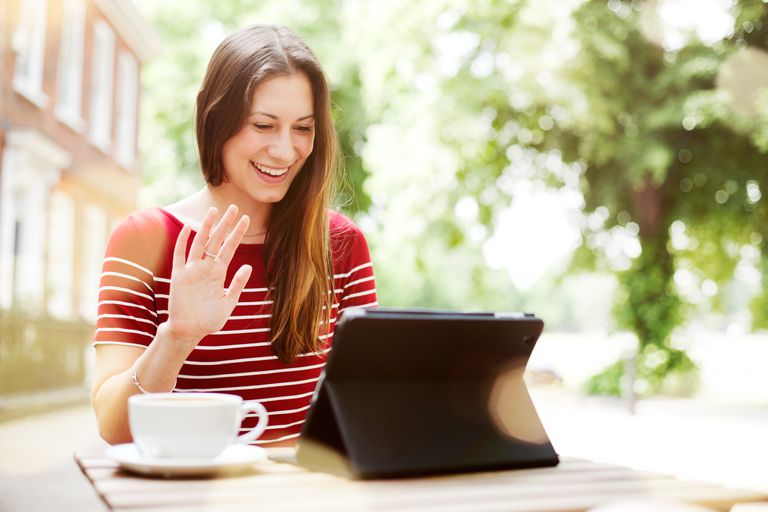 "Guys, let's make a video call!" Mike said.
He is a classmate of mine in Mathematics ITB 2005. Fifteen years have passed since our first meeting. But Mathematics men keep in touch through social media.
I'm grateful that I'm still involved in it even though in 2007 I left STAN. They seem to have not changed even though in status, many are already classy. We can express ourselves freely like we used to when we sat in the West GKU. That's friendship.
Last year we had the chance to meet in person. This year, of course not. Mike invited us to meet online. Unfortunately that afternoon I couldn't participate.
Online meetings are the only solution to close the gap during a pandemic. Likewise, friendship with friends at the office. Once a week we have a special meeting for office affairs, together with our direct superiors, to ensure our health. Once a month the meeting is escalated to a higher level with the Head of Sub-Directorate in addition to more substantive meetings. Communication on online networks? Of course every day.
Here are my tips for Quality Time With Friends in online
Take care of the language
Communication via text is more likely to offend others because our gestures cannot be seen. So, it is difficult to respond to jokes or things that are not serious if you are not too close.
Especially if you are office colleagues, try to use language as clearly as possible to avoid misunderstandings.
Avoid Emoticons
I don't understand emoticons at least. This still has to do with taking care of the language. Yes, because in the office there are many who are older, bed generation, emoticons can also cause misunderstandings.
Appreciate more than respect
How to respect colleagues? When you're in discussion or talking, don't like to cut the conversation off if there are friends who haven't finished talking.
Back then, everyone can be more sensitive if the conversation takes place online. So we have to show our appreciation more to the people who are talking.
Smile a lot
Now, when it's vidcallan, smile often. Don't just frown. A smile also indicates that we are doing well.
Appropriate Background and Dress
Don't just say anything at home, then we don't wear a proper, unsightly and inappropriate place. Still, our attitude must be more disciplined and tidy so that our friends feel appreciated in these meetings.
…
Written by Michael on July 15, 2020
General
Artificial Intelligence (AI) and Machine Learning (ML) are the most commonly used words that everyone has heard these days. But there are a lot who are still not familiar with them but come through these technologies every day. According to research, it states that 77% of the devices that are used currently have AI built-in them. From the very smart digital device to the youngster's freak Netflix recommendation products like Amazon's Alexa and Google Home, AI is the force behind which many modern technologies work that are now part of our daily lives.
Besides this, there are a lot of uses for Artificial Intelligence and Machine Learning. IBM's Chef Watson created a ton Of possibilities with just four ingredients. Also, AI-powered virtual nurses such as Molly and Angel who had already saved lives while robots are assisted with everything from less productive procedures to open cardiac surgery. With the huge demand and great interest in these technologies, many new trends are emerging in this space. 
Increasing the use of AI and Machine Learning
According to Gartner's 2019 CIO Agenda survey, the percentage of the organization who bas adopted AI jumped from four to fourteen percentage between 2018 and 2019. Giving the benefits that AI/ ML offers in business analysis, risk management, R&D and resulting cost savings, AI implementation will continue to rise in 2020 
However, there is much organization that adopts AI, and Machine Learning haven't understood this technology fully. In fact, forty per cent of the European companies claim that AI start-up doesn't use this technology, stated by Forbes.
The benefits of AI and ML are becoming evident day by day while businesses will need to step up and hire people with the right skills in implementing these technologies. Many are well on their way. According to some recent survey of Global 500 companies, it shows that most of those surveyed expect their investment in AI-related talent to increase by 50-100% over the next upcoming three years.
Transparency Trends in AI
Despite being so omnipresent, AI still suffers from trust issues. As a business plan to increase their use of the system, they will have to do it more confidently as no one wants to trust those decisions of a system that they won't understand.
Therefore, in 2020 there will be a greater push for deploying AI in a very transparent and defined manner. While companies would be working very hard in making efforts to understand how the AI models and algorithm works, AI/ ML software providers will be making sensitive ML solutions which will be more explainable to the users using it.
Rising Emphasis on Data security and regulations
The new currency is said to be Data. In other words, it's the most valuable resources that the organization are protecting and should even protect it. With AI and ML were out into the mix, it's only going to increase the amount of data that they use to handle and the risks that use to be associated with …
Written by Michael on May 16, 2020
General
If you are in some other sphere of professionalism and want to start a career in the field of Cybersecurity, we have really good news for you. Research proves that Cybersecurity professionals who had initially started their careers in other fields and later moved on to become Cybersecurity employees are more likely to be paid higher than a person who has pursued his/her career completely in Cybersecurity from the initial stage.
It is so likely because no matter what degree you possess, your earning depends on your work experience in the Cybersecurity industry. For example, a Cybersecurity professional possessing a degree in any engineering field related to Cybersecurity is paid the same as a person not possessing a professional engineering degree. It is not on the ground of educational qualification but, on the ground of experience on which the payroll is issued. The more time you stay in the industry, the more you get paid, and that's a factual reality as you would be gathering more experience in the industry. The Cybersecurity IT industry is currently experiencing a global crisis due to a lack of relevant skills in an applicant. Companies will pay a large sum of money to you if you possess the skillsets no matter what is your education background. The even bigger news is that 0% of unemployment has been recorded in the Cybersecurity industry.
It is of utmost importance for the companies to attract more enthusiastic and aspiring Cybersecurity experts as they look forward to saving themselves from data theft, ransomware and many other things. To do this, they need to prove to a potential jobseeker in the industry that the change in their career is going to be very positive with higher pay and more respect than in other professions. It should also promise a stable growth and scope for flourishing. 
But, the companies are also at a profit here, because by drawing professionals from other streams towards Cybersecurity, they have the chance of retaining some of the newly recruited Cybersecurity professionals which would ensure that their investment is returned through work. Young professionals are provided with career development, mentorship and cross-training. This is where the companies invest for initiatives to attract more youngsters into this field.
Currently, more than 50% of the Cybersecurity personnel are found to have started their careers in other industries and have moved here later. It is also found that almost 65% of the job shifters do not look forward towards leaving this sector. There are many reasons, and they stay in demand, are paid high, are respect and are also paid with respect to their experience and skills.
According to recent surveys, the sector is running short of skilled employees to fill the position gaps around the world. There is a shortage of more than 4 million Cybersecurity professional employees worldwide. Hence, attracting employees from different sectors is the only viable way to tackle the problem. It won't obviously fill the gap, and it would just alleviate …
Recent Posts
Categories
September 2022
M
T
W
T
F
S
S
1
2
3
4
5
6
7
8
9
10
11
12
13
14
15
16
17
18
19
20
21
22
23
24
25
26
27
28
29
30